Buying a condo represents a life-changing investment. As such, you'll want to allocate the necessary time and resources to ensure that purchasing a condo is right for you.
So what does it take to determine whether to purchase a condo? Here are three tips for those who are evaluating the pros and cons of buying a condo.
1. Understand What Condo Life Is All About
A condo and a house are two very different types of properties. Thus, you'll want to understand what condo life is all about before you purchase a condo.
For example, homeowners likely will have a front yard and backyard that they will need to maintain year-round. Homeowners also can plant a garden, install an in-ground pool and perform various home maintenance and upgrade projects at any time.
On the other hand, condo owners frequently live in closer proximity to one another in comparison to homeowners. This means condo owners likely won't have to mow their own lawns or shovel their walkways in winter. However, condo owners might lack the space to set up a personal garden, and they may require homeowners association (HOA) approval to complete any home exterior modifications as well.
2. Know the HOA Fees
Although you'll pay a mortgage as part of a condo purchase, you will still need to consider the HOA fees in addition to your monthly mortgage costs.
HOA fees cover the costs of insurance, maintenance and other property expenses. Plus, if your condo's roof is severely damaged or destroyed, you should be covered thanks to your HOA fees.
To learn about your HOA fees, you can contact the HOA directly. Also, your real estate agent will be able to provide insights into the HOA fees associated with a condo.
3. Collaborate with an Experienced Real Estate Agent
When it comes to purchasing a condo, all real estate agents are not created equal.
Finding a real estate agent who possesses many years of experience with condos is paramount. This real estate agent will be able to help you understand the ins and outs of condo life, examine HOA fees closely and discover whether a condo purchase is right for you.
Furthermore, your real estate agent should be able to help you along each stage of the homebuying journey. He or she will be able to set up condo showings, assess condos that match your price range and provide expert homebuying tips as you move along the homebuying journey.
Perhaps best of all, your real estate agent understands that the process of buying a condo can be challenging. As a result, your real estate agent is happy to respond to your concerns and queries. That way, if you're uncertain about purchasing a condo, you can consult with your real estate agent and get the best support possible.
Hire a real estate agent with condo experience – you'll be glad you did. With this real estate professional at your disposal, you should have no trouble finding your dream condo in no time at all.
Every child grows up either with a dog or dreaming of the day they will have a dog. And if it's not a dog, it's a cat, a hamster, or even a goldfish. But sometimes having a pet is just not an option. Here are a few things to consider before getting a pet.
Allergies:
It's important to know whether or not you or anyone living in your home has any allergies to animals. And it's best to know before you adopt or buy— there are tests that your doctors can run. It's never a good situation for the pet owner(s) and animal if the animal has to either be given back or given to someone else due to an allergy. This will put a lot of stress on the animal being moved around too much and it can also cause harm to the people involved, as it is always difficult letting go of a pet. If someone in the home has an allergy you may have to stick with goldfish and hermit crabs. However, there are certain types of dogs that are considered hypoallergenic.
Travel:
Do you work long hours? Do you travel often for work? Will there be anyone home when you aren't? These are all important questions to consider before adopting a pet. These questions don't apply as much to pets such as goldfish and hamsters (even though they still require care), but are extremely important if you want a cat or dog.
Time:
Do you have the time for a pet? Consider the questions above such as work hours and traveling, but also if you have the time between having a social life, taking care of your children, bringing them to soccer practice or dance class, etc. If you think you have the time then you must also consider that there are different breeds of dogs that require more attention and work than others. The same goes for different types of cats. Be sure you are completely aware of the work that goes into the type of dog or cat you want.
Cost:
The cost of a pet goes well beyond the initial adoption or breeder fee. It's important that you consider the lifetime cost of owning a pet and whether or not you can afford an animal. Again this more pertains to dogs and cats rather than hamster and fish. There's the cost of food, grooming, veterinary care, toys and walkers. And the costs will vary depending on the breeds of cats and dogs. It's also important that you save for emergency vet visits, as they can be completely unpredictable and very trying at the time. Having money saved up will take a small bit of the stress away. A pet is a large responsibility and one that should not be taken lightly. You are caring for another life and the adoption or purchase of any animal should be well thought out and something you are prepared for. If that sounds like you then go out and find the pet that's perfect for you and your family.
California residents rejoice! Dozens of outstanding museums are located across the Golden State, ensuring you can learn about culture, history and much more.
Luxury homebuyers should have no trouble discovering California residences near many of the state's top-rated museums. In fact, some of the most popular Golden State museums that are located close to luxury houses include:
1. The California Museum
The California Museum in Sacramento is a great destination for new and long-time Golden State residents alike. It highlights the unique history of California and often inspires visitors to make their mark on Golden State history too.
At the California Museum, you can celebrate the history of the Golden State any time you choose. The museum offers permanent exhibits that highlight notable California historic events and landmarks. In addition, the museum provides temporary exhibits that showcase the people and places that make California a distinct destination.
2. California State Railroad Museum
For those who cannot get enough of trains, there may be no better choice than a visit to the California State Railroad Museum in Sacramento. Here, you'll find dozens of restored locomotives and railroad cars, including those that date back to the mid-19th century.
The California State Railroad Museum features a broad array of railroad artifacts and constantly updates its exhibits throughout the year. Furthermore, the museum boasts a comprehensive educational program that enables kids to enjoy handcar and train rides and historic reenactments to learn about the history of the railroad industry.
3. The Broad
A downtown Los Angeles favorite, the Broad is a contemporary art museum unlike any other on the planet. The Broad opened its doors in September 2015, and thus far, more than 1.2 million visitors have already checked out the museum's one-of-a-kind art collection.
The Broad features a collection of more than 2,000 pieces of art, including postwar and modern artwork. Plus, the museum offers 120,000 square feet of space across two floors, ensuring you can enjoy awe-inspiring artwork as far as the eyes can see.
There is no shortage of high-quality museums in California. Meanwhile, if you decide to pursue a luxury house in the Golden State, you likely will find lots of great residences near any of the aforementioned museums.
Of course, California luxury homebuyers would be wise to collaborate with a real estate agent. Because if you work with a real estate agent, you can get the support you need to simplify the homebuying experience.
A real estate agent understands exactly what it takes to acquire a California luxury house. He or she will help you explore luxury residences in Sacramento, San Francisco, San Diego or elsewhere in the Golden State. Or, if you prefer to live near The Broad or any other California museum, a real estate agent will help you achieve your luxury homebuying goal.
Take the guesswork out of acquiring a luxury house – employ a real estate agent, and you can accelerate the homebuying process.
This listing recently sold for $2,495,000.
Just Sold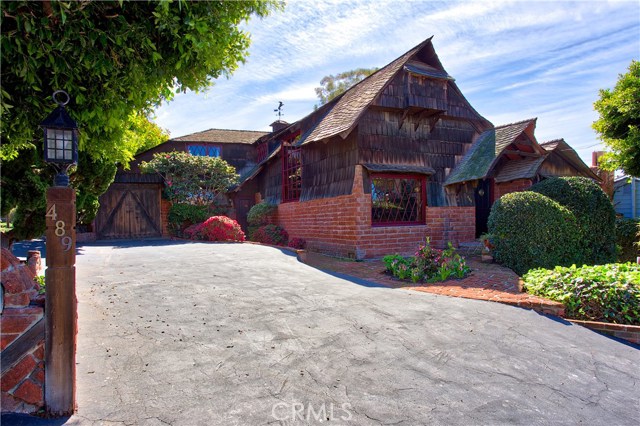 One of the most enchanting, vintage homes in Laguna, prominently curb appeal in the center of Woods Cove. Distinctive French Tudor style, thought to be designed by Aubrey St. Clair, enjoys abundant history & charming details throughout. Spacious living room features a towering hand hewn open beam ceiling, one of a kind picture windows, hardwood floors & an oversized fireplace hearth & mantle. In the kitchen there's a witch's bend twisted brick chimney, the second sink is handcrafted brick, equipped with a hand pump to pull water. Multiple asymmetric steeply pitched roofs are cloaked in a whimsical shingle wave pattern. Numerous antique diamond pattern Tudor windows. Main house has 2 bedrooms plus 2 baths plus a den that could be a 3rd bedroom, kitchen, dining room and loft office. The upstairs master suite was recently remodeled and enjoys an ocean view. The office loft overlooks the great living room. The dining room is accented by an oversized Dutch door opening out to the yard creating an indoor/outdoor environment. Separate laundry area has a shower and sink. Beautiful gardens surround the private courtyard's rustic brick paver patio areas, which have entertained hundreds. Long barn shingles and red brick embellish the exterior. The multi-purpose room on lower level has separate entrance and is included in the estimated square footage. Attached one-car garage with a generous drive thru area can park several cars.
The right time to purchase a home varies from person to person. Meanwhile, buying a house is one of the biggest decisions an individual may make in his or her lifetime. As such, it is important to weigh your options closely to determine if now if the right time to buy a house.
There are several things you can do to get ready to pursue and buy your dream home. These include:
1. Make a Plan
Think about the steps you'll need to take to go from homebuyer to homeowner. Then, you can craft a plan to put these steps into action.
Also, it often helps to create a list of homebuying criteria. This list will help you narrow your home search and speed up the process of finding your ideal residence.
You should stay flexible as you conduct your home search too. The housing market fluctuates constantly, and if you maintain flexibility, you'll be ready to adjust your homebuying strategy as needed.
2. Get Home Financing
It usually is a good idea to get pre-approved for a mortgage. If you have a mortgage in hand, you'll know exactly how much you can spend on a home.
Banks and credit unions are available to teach you about all of your mortgage options. Thus, meeting with these financial institutions will enable you to learn about different types of home financing and make an informed mortgage selection.
Of course, you should not hesitate to ask home financing questions. Banks and credit unions employ courteous, knowledgeable mortgage specialists who are happy to respond to your queries. Therefore, if you are unsure about which mortgage option is right for you, these mortgage specialists can help you evaluate all of your options.
3. Hire a Real Estate Agent
A real estate agent offers expert guidance throughout the homebuying journey. He or she will help you find your dream home and submit a competitive offer to purchase it. Plus, a real estate agent will negotiate with a seller's agent on your behalf, help you prepare for a home closing and much more.
In addition, a real estate agent can provide plenty of support during your house search. He or she first will help you craft an effective homebuying strategy and search for properties that meet your criteria. Next, a real estate agent will set up house showings and keep you informed about open house events in your preferred cities and towns. And if a seller accepts your offer to purchase his or her home, a real estate agent will help you set up a property inspection and finalize your house purchase.
For those who are ready to purchase a home, it helps to be prepared. If you take advantage of the aforementioned tips, you can enter the real estate market as an informed property buyer. As a result, you may be better equipped than other homebuyers to enjoy a quick, successful property buying experience.